Non-Crabbet Arabians within the UK Crabbet tradition - Part 2
by Alexia Ross
Sherifa and Iridos
<![if !vml]>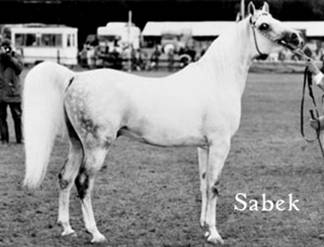 <![endif]>The non-Crabbet mare Borak produced the most significant foal of the Crabbet stallion Ben Azrek. He was a grey Hamdani Simri grandson of the Blunts' Bedouin mare, Sherifa, out of her daughter by Pharoah. He represented all Bedouin bred lines without the later additions of the Blunts' Ali Pasha Sherif stock such as Mesaoud. Sherifa is famous for her exquisite head and was also said to have an exceptionally sweet nature but her line died out at Crabbet early on.
Borak's daughter, Ruth Kesia, produced the stallions Shahzada and Nuri Pasha as well as Nuri Pasha's full sister Krim.
Nuri Pasha was by the Crabbet bred Nureddin II. Shahzada appears in many modern pedigrees through his great grandson Manasseh, sire of Dargee, but it was Nuri Pasha's daughter Almas who continued the Sherifa type. Almas was out of the Queen of Sheba line mare Amida and the family survives today as one of the few representatives of that Abeyeh Sherrakieh strain, some bay and some Sherifa grey.
Almas' son Aluf (by Algol's full brother Barkis) sired Rufeiya and Rafeena from the Crabbet mare Bint Ranya and Rafeena produced Iridos, an Irex son. It is Iridos who has proved the strongest progenitor of this type up to the present day. His beautiful daughter Nimet produced the British National Champion Stallion Nasib while Nasib sired the lovely stallion Sabek. Sabek spent his last years with the Gilbeys being bred to descendants of Nuri Pasha's sister Krim so there are a number of young greys of this line to see it into the future.
Ghazala and Zirree El Wada
The Blunt's Ali Pasha Sherif bred mare, Ghazala, is another that survives only in combination with some non-Crabbet lines. She was sold to Spencer Borden in the USA. There she produced the outstanding sire Gulastra by the Crabbet bred Astraled and the good broodmare Gulnare by another Crabbet bred stallion, Rodan, a grandson of her dam, Bint Helwa. It was Gulnare's daughter and granddaughter Gayza and Gara that returned to the UK and re-established the line. Both mares were by Bazleyd, a horse of predominantly Blunt breeding who carried one line to Imam, a full brother to Borak's sire Boanerges.
Gayza's daughter Nisan by the Old Egyptian stallion Jellaby is the one that bred on most strongly in the long term. Her granddaughter Zirree El Wada by the pure Crabbet stallion Naseel was an outstanding broodmare. Indeed she seems to have been leased by Lady Wentworth herself in return for a service to a Crabbet stallion. Her son, Zeus II by Silver Vanity, was registered as bred by Lady Wentworth while the full sister, Zilati born the following year, was registered to Zirree El Wada's owner and breeder, Mrs Nicholson.
Zeus II sired the good broodmare sire Harwood Asif before his untimely death while Zilati produced the Biddesden sire Zebadi. Another daughter, Zellah, produced the good Iridos son Zourrak but it was Zirree El Wada's 1962 daughter, Zahri by Dargee, that has really put this family on the map in more recent years. Zahri produced the British National Champion mare Zarafah, by Hanif, and this branch of the line continues to produce some outstanding horses. Zirree El Wada's last three foals were by General Grant and include a daughter Zulka who bred on well for Briery Close Stud and a son, Zenith, who went out to Australia. This is no longer a family of just one very distinctive type but it does seem to have an ability to add an extra dimension of elegance to any other line.
Nuhra, Irex and Sainfoin
<![if !vml]>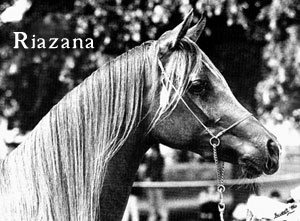 <![endif]>Nuhra was bred in the desert in Bahrain and presented as a gift to the Earl of Athlone as a three year old in 1939. Her first three foals were by another desert bred, the stallion Manak, but ultimately her line has been inextricably linked with the Crabbet Irex and the Arabians at Bill Clarke's Courthouse Stud.
The Courthouse Stud was founded with the Crabbet mares Belka, Rangha and Safarjal. Belka was a half sister in blood to Berk while the other two mares were daughters of Berk and, as such, they all represent an earlier Blunt Crabbet type with close lines to Azrek and Pharaoh.
Safarjal was a dark bay with two close crosses to Queen of Sheba's son Ahmar and she arrived in foal to Rasim. In due course she foaled the stallion Sainfoin, a compact and pretty bay whose blend of Ahmar type and Rasim structure were to have a lasting impact at the stud.
Lady Wentworth described the classically pretty Rissla son Irex as "perfect" although small. He was one of the chosen mates for Nuhra and her daughters while Bill Clarke added an Irex son, Champurrado, to his stud to use on his mares. Unfortunately for most of the Arabian world the Courthouse stallions were not at public stud but the Barton Lodge Stud managed to arrange to have their mares bred to the best of the Sainfoin and Champurado descendants over the years. Nuhra's story would not be the same without the link.
The most famous broodmares of the Nuhra line, such as Zehraa and Nuhajjella, were by Irex. The Courthouse stallions Rheoboam, Rashid, Blenheim, Samhan and the elderly Bend Or were all used on the family, adding strong elements of the older Blunt Crabbet type every time. The stallions Dargee and Mikeno were also used, adding the important Algol factor. Nuhra must have been excellent broodmare material but the only photo I have seen gives no indication that she was pretty even though the line is particularly known for type and refinement now. Much of this type and refinement is probably due to the multiple crosses to Irex and Sainfoin that Barton Lodge added over the generations. Dargee's son Darjeel and Mikeno's son Rajmek were also used back on the Nuhra line mares very successfully. Darjeel's son Riaz was a British National Champion in his day and was out of Zehraa's daughter Razehra by Rashid. Indeed Darjeel was used at Crabbet latterly although never owned there.
Other breeders have realised the great consistency of this family. Zehraa's granddaughter Kazra was a superb producer, as were her two daughters Muzri and Kazminda, and got the Maxwell's stud off to a flying start. Today this branch of the family has almost vanished in Old English form as the line has been crossed with newer imports by so many. This is just one example of the dangers of commercial show ring success for the older Crabbet and Old English lines.
Nonetheless today there are still some wonderful examples of the classic Nuhra type with its strong Irex influence. There is also a distinct sub group where the bloodlines of the Courthouse Stud are very evident. Kazra's stunning bay son Persimmon by St Simon was very much this Courthouse type and still has a few progeny of Old English lines around. It is also interesting to note that the Barton Lodge bred Bayazar and Shimnar are responsible for the survival of the tale male line of the Blunt's Ali Pasha Sherif stallion, Feysul, through the Courthouse foundation sire Sainfoin.
In addition a few Courthouse lines did become available in the stud's final days and bred on in other combinations. Taken together this group of horses represents an intense legacy of some of the older Blunt types that did not form the main thrust of Lady Wentworth's breeding programme.
Straight Crabbet and Skowronek
<![if !vml]>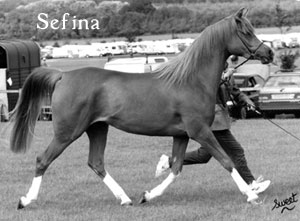 <![endif]>Arabians of 100% Crabbet breeding are, by definition, also 100% Old English bloodlines. They preserve in their most intense form the bloodlines of one of the most influential breeding programmes in the Arabian equine world. The lines represented, particularly those with real current influence, are more limited than those available within the larger pool of Arabians with some non-Crabbet, Old English blood. Lines and types favoured by Crabbet's latter day proprietor, Lady Wentworth, predominate over those in favour in Lady Anne Blunt's day.
All of these Straight Crabbet Arabians carry bloodlines originally imported from the desert by people other than the overseers of Crabbet. The original Crabbet importation by the Blunts came direct from the desert tribes or from the stud of Ali Pasha Sherif in Egypt. Lady Wentworth's additions included the Polish bred stallion Skowronek and several Arabians of mixed Crabbet and other Old English lines such as Dargee. Today there is a small closely bred breeding programme in the USA that descends from a family of horses with only the Blunt's imports in their pedigrees. For the most part, however, the closest we can get to the original breeding programme of The Crabbet Arabian Stud is Arabians who carry the original imports with the addition of Skowronek only. The last stallion to be used at stud at Crabbet itself who carried only Blunt imported bloodlines was Oran. Ironically Oran was not actually bred at Crabbet Park but at Lady Yule's Hanstead stud.
Oran and the all Blunt Rissla son, Rissalix, remain enormously influential in English Arabians of all Crabbet breeding. The other huge influence, however, is that of the Skowronek granddaughter Silver Fire. To find a 100% Crabbet Arabian in England without any one of these lines, let alone all three, is impossible. These lines produce some outstanding horses still.
Rosemary Archer's Worth Stud bred the gloriously beautiful Silver Flame and the National Show sire produce group winner Silvern Idyll. Silvern Idyll's dam, Silvern Dream, remains a source of classic type that traces all the way back to the Blunt's Ali Pasha Sherif mare Sobha through Silver Fire. This line has to be one of the most consistent producers of quality Arabians of Blunt plus Skowronek bloodlines. Golden Silver, a winner at the National Show, was a Silver Blue son out of a Ludo bred mare from the breeding programme of the Wrights in Norfolk. He too has proved a very consistent sire. Horses like these are living proof that such lines can continue without the need for outcrosses. The range of types and traits available is limited, however. With them alone, much of what is owed to Crabbet would be lost.
The heritage of Crabbet

Lady Anne and Wilfrid Scawen Blunt collected one of the largest groups of authentic desert Arabians the world has ever seen. Lady Anne's attention to detail and commitment to checking the credentials and background of those horses was unrivaled. To this heritage was added Lady Wentworth's unerring eye and a gift for blending the remarkably different types at her disposal.

This is the heritage that is important and written pedigrees only take us so far. They are a guide to what could be there but it takes knowledge of the individuals in the pedigree to be able to judge what elements have actually survived into the living horse. The Old English lines offer access to a much wider selection of the Crabbet collection while representing a consistency of breeding tradition that offers predictability to the breeder in a way more recent outcrosses rarely can. They are an essential part of the English Crabbet breeding tradition.

<![if !vml]>

<![endif]><![if !mso]> <![endif]><![if !mso & !vml]> <![endif]><![if !vml]>

<![endif]>