Non-Crabbet Arabians within the UK Crabbet tradition - Part 1
by Alexia Ross
The Old English gene pool preserves within it Crabbet lines and traits now lost to Straight Crabbet Arabians. It represents a long tradition of Crabbet type Arabians that happen to have in their background small additions of lines not imported by the Blunts, founders of The Crabbet Arabian Stud. The Crabbet legacy would be the poorer without them and Lady Wentworth herself saw the wisdom in adding some of their number to her breeding programme.
The foundation bloodlines imported by the Blunts came direct from the Bedouin tribes and then from the Royal stud of Ali Pasha Sherif in Egypt. The latter traced direct to Bedouin bred horses close up in their pedigrees. They also represented a tradition of collecting and breeding the most beautiful of the desert horses that Ali Pasha Sherif had acquired from the collection of Abbas Pasha. These were the horses from which the Blunts bred and nothing further was added until their daughter Lady Wentworth took over the stud.
Lady Wentworth purchased further desert bred stock but she also bought or leased Arabians from other English breeders. Some of these were of all Crabbet breeding but others contained lines from non-Crabbet, English imports. In this way Arabians of 100% Crabbet breeding today carry bloodlines that can also be considered non-Crabbet.
The earliest imports were registered in Weatherby's General Stud Book, before the founding of an Arab Horse Society and breed stud book, but this was closed to new imports after 1921. Arabians of all GSB bloodlines thus form an interesting group of the earliest bloodlines but the culture of Arabian breeding did not really change dramatically until after the Second World War and the difference between Arabians of GSB and Old English lines is more historical than real. In the long term Arabians imported before the Second World War form a definable group. This is the group that is today known as Old English.
The world was very different then, offering some showing but not the huge leisure pastime of today. There was a consistent expectation that all horses should be evaluated in practical athletic terms with the majority of surplus stock sold as riding horses. Differences of opinion and emphasis existed of course but the overall philosophy was never worlds apart. With other importers numbering their acquisitions in ones and twos and almost always using Crabbet horses in their own breeding policies, the majority of Old English Arabians are over 90% Crabbet. They preserve in their midst lines and traits that have died out in 100% Crabbet horses.
The non-Crabbet imports
In the earliest years Crabbet Park was the only place breeding Arabians on any scale. The non-Crabbet imported lines today survive through only one or two descendants each, bottlenecks that invariably combine with Crabbet blood.
The most important of all the non-Crabbet imports was probably Dwarka. He bred on almost entirely through his grandson, Algol, a horse of three quarter Crabbet breeding who proved an enormously important sire in many Old English breeding programmes.
The mare Borak represents the non-Crabbet imports El Emir, Ishtar and Kesia II. She is important for her daughter Ruth Kesia by the Crabbet stallion Ben Azrek. Ruth Kesia appears in many modern pedigrees through her sons Shahzada and Nuri Pasha and can take the credit for the survival of lines to the Blunt's beautiful grey bedouin mare, Sherifa.
Of the non-Crabbet mares, Nuhra was by far the most significant but Jamila, Kesia, Mahawiliyah, Roglemar Zarad and Takritiyah all bred on. The family of the Blunt's mare Ghazala was one that returned to England in the form of two mares bred in the USA. They carried a line to El Emir and Ishtar and most of this line was also crossed with the Old Egyptian stallion Jellaby who was imported at the same time. It is the type of the Blunt's Ghazala, however, that remained dominant for several generations.
These were the lines that have bred on most strongly through to today. Many horses with these lines carry type factors or lines that disappeared from Crabbet completely or are hard to find. Even those that represent types still available to the breeder of 100% Crabbet horses provide a broader genetic base and help to maintain the long term genetic health and viability of the Crabbet type Arabian. Very few of these lines have left a definable legacy of their own.
The importance of Algol
<![if !vml]>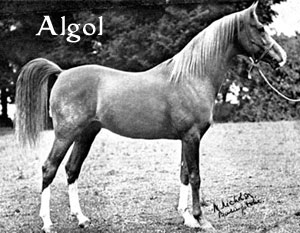 <![endif]> There is no decent pictorial record of Algol's non-Crabbet grandsire, Dwarka. Photos of Algol's sire Aldebaran suggest a short but straight head, good shoulders, a short back and deep body with a long if somewhat sloping hind quarter. Algol has been enormously important. The compact deep body of his sire is still discernible but Algol was a much prettier horse with a longer, lighter neck, a more level croup and greater elegance overall. Arabians descended from Algol often inherit pretty heads and spectacular movement. Lady Wentworth believed the movement was owed to Berk and Berk's grandsire Ahmar. This is quite possible and the mares Algol was bred to frequently reinforced the line.
Mares of Algol breeding ultimately produced Hanstead's stallion Mikeno and the important mare Farette. Algol contributed to many Old English lines and is also a noticeable common denominator in the background of endurance and performance Arabians today. This is also one of the most significant lines Lady Wentworth added into Crabbet with her purchase of the stallion Dargee.
Dargee's dam, Myola, and his paternal grandam, Aatika, were both daughters of Algol while Myola's dam, Rythma, was by the Crabbet stallion Berk and was a full sister to the great Crabbet broodmare Rissla. It was the Berk movement that drew Lady Wentworth to Dargee and certainly much about the stallion is reminiscent in type to some of the earlier Crabbet descendants of Berk's grandsire Ahmar. The body type shows the influence of Dwarka's son Aldebaran, however, and this has remained quite distinctive in the progeny and descendants of Dargee and several of his near relations.
Crabbet and Dargee
<![if !vml]>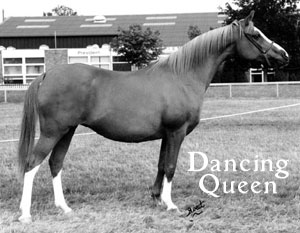 <![endif]> So an Old English Arabian can also be a Crabbet Arabian. An Arabian descended from pure breds owned or bred at Crabbet can contain Old English lines that were not imported from the desert direct to Crabbet. These lines are inherited via Dargee or other Old English lines added to the stud in its later days. This is the situation that was created when Lady Wentworth bought and used Dargee at Crabbet. He was not the only example but he remains by far the best known and most prolific.
Lady Wentworth bought Dargee largely for his brilliant movement. The fact that he also carried lines to Dwarka, Mootrub, El Emir, Ishtar and Kesia II, none of which were Crabbet, did not concern her. Lady Wentworth, of course, never defined Crabbet and neither did her parents.
Dargee was a very successful sire. Many of his best descendants were also bred up close to the Berk daughter who did remain at Crabbet, Rissla. Combinations of Rissla and Dargee produced the Harwood foundation sire Magnet, the outstanding stallion Crystal Fire as well as the good sires Indriss and Risslan. Today one of the best-known Dargee lines is the combination of his daughter Dancing Sunlight with Indian King. Dancing Sunlight was part of the Sharima family but also descended from Rissla's sister Rythma while Indian King was a grandson of Rissla's son Irex. Tarantella and Dancing King were the best known of this pure Crabbet family and their descendants continue to be valued by knowledgeable breeders.
Tarantella was the foundation mare for Diana Whittome's Coed-y-Foel stud in Wales and the family is still producing outstanding show and ridden horses. Dancing King stood at stud at the Wrights' Moulton stud, also home to Ludo and Silver Blue, providing excellent daughters in particular that have got many breeding programmes started. The line is still known for being deep and compact with excellent movement. Dancing Sunlight also had a full sister in blood. This was Sirella, whose Silver Vanity son, Hanif, and daughters by Bright Shadow provided Geoff Plaister's Imperial Stud with an excellent foundation.
Farette and Ahmar
<![if !vml]>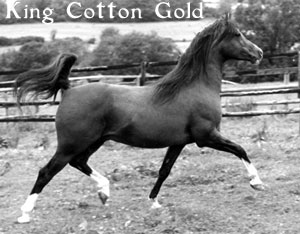 <![endif]> Farette is another line with a debt to Algol. She represents the type of one of the Blunt's most prized mares, Queen of Sheba, through the Queen's Azrek son, Ahmar. When the grey Skowronek daughter and Ahmar granddaughter, Seriya, was bred to the chestnut Algol, the result was a dark brown filly, Shabryeh. She inherited the brown colour and type from her grandsire, Ahmar, and a further line to both Ahmar and his full sister, Asfura, from Algol. The line has proved the most persistent for this type in England.
Queen of Sheba was considered by Lady Wentworth to be one of the most significant mares imported by her parents. Her three surviving foals were all bay and inherited much of her distinctive refinement and style. Azrek's son Ahmar had all this plus the small, pretty head and spectacular movement of his sire. In the early days Ahmar and his grandsons Berk and Sotamm were used as Crabbet sires. In the long term, however, Berk's Rodania line daughter Rissla maintained the line at Crabbet along with Sotamm's great grandson Oran, a much taller and more substantial type. The Ahmar type is hanging on by a whisker in England, largely due to Farette.
Farette was Shabryeh's granddaughter by the Rissla grandson, Rifari, out of Shabrette who was sired by Rissla's son, Rissalix. The bay colour, short strong back and fabulous movement of the Ahmar line has remained remarkably dominant. Farette's progeny read like a role call of champions but the line has suffered from its own success. Like so many good Crabbet and Old English lines, the best individuals have been bought up to cross with the latest fashionable imports and today the line is again under threat of extinction. Nonetheless Farette's daughter Farosa, winner of the Princes Muna Saddle of Honour for the best family group at the National Show, and Farette's grandson British National Champion King Cotton Gold have both bred on a small number of pretty, stylish bays with extravagant movement. It is now up to the next generation of breeders to ensure the line's survival.
Copyright 2009 to Alexia Ross